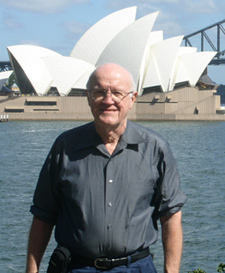 Professor Snyder is a senior scholar in the field of British history, specializing in the early eighteenth century. He is the author of more than thirty scholarly articles; co-author of a text on English history, The English Heritage (several editions) and Cataloging of the Hand Press: A Comparative and Analytical Study Of Cataloging Rules and Formats Employed in Europe (1994); co-editor of The Scottish World (1981) and The English Short-Title Catalogue: Past, Present, Future (2003); and the editor of The Marlborough-Godolphin Correspondence published by the Clarendon Press in three volumes in 1975.
He earned B.A., M.A. and Ph.D. degrees at the University of California, Berkeley. Professor Snyder served at the University of Kansas from 1963-1979 rising to the rank of professor, at Louisiana State University at Baton Rouge from 1979 to 1986, and from 1986 at the University of California, Riverside, where he currently serves as director of the Center for Bibliographical Studies and Research. He has been a dean at all three universities. He was a visiting lecturer at Bedford College, University of London, 1965-6 and a Fulbright Lecturer at the University of Hamburg in 1974. Since 1978 Professor Snyder has served as editor and director of the English Short Title Catalogue in North America (ESTC). Since 1990 he has served as the director of the California Newspaper Project (CNP). In 2000 he inaugurated CCILA, Catálogo Colectivo de Impresos Latinoamericanos hasta 1851, for which he has received two grants from the National Science Foundation.
For the ESTC and CNP as well as other projects, he has been awarded some $20,000,000 in grants from the National Endowment for the Humanities, the Andrew W. Mellon Foundation, The Carl Pforzheimer Foundation, the H W Wilson Foundation, The Rockefeller Foundation, the Gladys Kriebel Delmas Foundation, the Pew Family Trusts, the Department of Education, The Center for Research Libraries, The Swedish-American Foundation, and the California State Library.
He developed the prototype for the Hand Press Book File of the Consortium of European Research Libraries and was one of the organizers of CERL. He is a past President of the American Society for Eighteenth Century Studies and has served upon the Board of Directors of several scholarly organizations. He has been a member of the International Federation of Library Associations since 1988. He served a four-year term as chair of the rare books and manuscripts section and is currently a member of the newspaper section. He has been awarded senior fellowships from the American Council of Learned Societies and the National Endowment for the Humanities (declined).